New to LBC?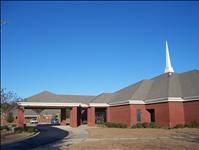 Worship and Bible Study on Sundays
If you'd like to visit us in person, then Sunday morning is a great time to do so! Our Bible Study classes begin at 9:30 AM, and we have one for your age group. The Worship Service begins at 10:45 AM. In addition to in person worship, we are offering the ability to listen to the Worship Service from the safety and security of your own car. Simply tune your FM radio to 104.5. In the service, you will find that we use a blend of traditional hymns and praise choruses. We have chosen to use the "blended" style of music so everyone will find something they enjoy and that enables them to truly worship God.
How Should I Dress for the Services?
On any given Sunday, you will find casual clothing as well as coats and ties. Our emphasis is on the people and not their clothing. From Memorial Day to Labor Day, we encourage everyone to dress casually in order to be comfortable in the summer heat.
How Do I Find Your Location?
Using the I-85 interstate highway may be the quickest way to reach our church building. Take I-85 towards Atlanta and exit at Mitylene, Exit 11. Turn left at the traffic light and travel beneath the interstate. You will see our building less than a quarter of a mile on the right.
From Atlanta via I-85, take Mitylene, Exit 11, and turn right at the light. You will see our digital sign and building on the right.
Some may find it more convenient to drive down Atlanta Highway to our church. We are located just past the Arrowhead subdivision and in front of Towne Lake, and there is a Chevron station directly across from us. If you go under I-85, you have traveled too far.
Where Do I Park?
As you enter the parking area, you will see several parking spaces on your right. Please feel free to use one as our guest parking area.
Where Do I Enter the Building?
After parking, you will see a covered portico. You may enter our building there, and will be greeted by some of our deacons, members, and staff who will be more than happy to help you find a Bible Study class or the Worship Center.
What About Our Children?
Quality preschool and children's Bible teaching programs are available in a safe and secure environment. As you enter the building, all of the age-graded classes are located to the right and through the double doors. The children will enjoy the murals being painted on the walls of "Bible Land." We also have safe and fun playground equipment for all children to enjoy.
What Happens On Wednesday Evenings?
At this time, we have paused our Wednesday Evening Services. A fellowship meal is provided on Wednesday evenings for a minimal cost, and we begin serving at 5:30 PM. Tables are set up in the fellowship hall. At 6:15 PM, the teenagers go to the youth room for worship and Bible Study, and the children go to their rooms for children's choir and Bible teaching.
The adults remain in the fellowship hall for the service. We begin with the singing of praise choruses and hymns, and then receive prayer requests and praise reports. After spending time in prayer, our Pastor leads us in a Bible Study.